Podcast: Play in new window | Download (Duration: 1:23:40 — 153.2MB)
Subscribe: RSS
"Being Spherical," with Guests, Authors, and Co-Founders of Spherit Inc., Phil and Pam Lawson, and Musical Guests, Singer / Songwriter and Storyteller, From Broadway to the Grand 'Ol Opry, Sara Niemietz, and Emmy Award Winning Composer, and Guitar Virtuoso, W.G. Snuffy Walden, on The LIFE CHANGES Show #563
Guests: PHIL and PAM LAWSON; and Musical Guests: SARA NIEMIETZ and W.G. SNUFFY WALDEN
PHIL and PAM LAWSON
About Being Spherical
Being Spherical; Reshaping Our Lives and Our World for the 21st Century, is "an attractively bound and illustrated modern philosophical treatise," according to the editorial reviewer, Dr. John Maling, PhD., with "practical tools" for thoughtful individuals who are "concerned with our world, and its long-term direction and our long-term survival as a civilization and race."
Authors Phil Lawson and Rob Lindstrom more simply defined it as "a guided tour of an emerging worldview."
What started out with a question: Why doesn't the world work the way we were told it does? Turned into a realization that we, as a species are not adapting well to the realities of our times.
While Being Spherical provides the core foundation for a new way to see, think and act, in this dawning era of interconnectivity and interdependency, Phil believes people also need a way to model and apply this in real-life without having to study the sciences behind it. That's what he's doing now; what he and Pam are both doing now. Their boutique R&D company, Spherit, has developed a technology that demonstrates to people that it is possible, and easy, to make better decisions, in real-time, when you update your personal operating system from mechanistic to holistic.
More than 40,000 people in different ages and demographics have experienced this humane technology, in many fields and uses, including the health industry, workforce, education, employment readiness, food security, and interpersonal relations, used by U.S. military personnel.
To be spherical, you must see, think, and act spherical, say Phil and Pam.
Learn More About Being Spherical and Phil Lawson and Pamela Powers Lawson at www.thinkspherical.com, and www.sway.office.com/BnQVslxbUlOyRSeS
Follow Pam and Phil Lawson on Twitter @socializingAI
More About Phil and Pam Lawson
When Pam and Phil met at the age of six, in the lobby of a church in Denver, both of their families were in crisis.
Pam's mother had recently died from complications of multiple sclerosis, and Phil's little sister had been diagnosed with leukemia and was enduring the treatments to recover.
They were in survival mode back then, experiencing constant, disruptive change. A new step-family for Pam; a cross-country move for Phil. Both of them switching houses and schools, repeatedly, in the midst of leaving friends and losing track of each other.
But Pam and Phil had a bond that was unforgettable. And Phil tracked Pam down the winter of 1968, when she was 13, when his family returned to Colorado for the holidays.
They married young at 18, anxious to make a difference in the world the only way they knew how, as volunteer mission workers, traveling the dusty back roads of East Texas armed with ginormous convictions. Followed by three years in Alabama, and seven years in Mississippi, dedicated to a cause that spanned a decade in the Deep South, paying their own way as janitors, floor cleaners and trash haulers.
They were poor. Malnourished. Embedded. But as they moved through disadvantaged communities, ravaged by inhumane conditions, they had rare and extraordinary experiences that fed them priceless information— experiences, that transcended what they had imagined was their purpose there.
And then, at the age of 29, an unexpected turn of events launched them unprepared into the business world. At the very moment the marketplace was facing unprecedented changes from new and disruptive technologies, including Microsoft's personal computer operating system.
As Microsoft released Windows in 1985 and reached 2,793 employees by the end of 1988, Phil was working his way up from the production department of a startup multimedia firm in Dallas to the president of that company, making it a beta test center for new technology applications. And Pam rose through the ranks of the same company from quality control, to the art department, to Creative Director. By 1988, Phil had grown the operation from a handful of people to a staff of nearly 40, covering round-the-clock shifts.
Phil and Pam were busting down barriers by then, and they kept going— living and working in Hollywood; traveling to other countries on business; rubbing shoulders with creatives and intellectuals. They even experienced a couple of historic natural disasters.
But as they moved through religion, business, and the arts; through deprivation and privilege; through convention and eccentricity, they began to detect common core characteristics in all human activities, no matter the box. They began to see patterns. And they wondered if the power of personal computing might one day expedite human behavior growth.
More importantly, they began to realize they had unconventional human skills. They could adapt, flex and respond to life's challenges, in real-time, better than anyone else they knew. But they needed scientific proof to explain what they were experiencing before anyone would take them seriously.
So, they went in search of it, at the age of 44, dropping out of the business world and moving to a cabin in the Colorado Rockies to study, think and write.
They are part of a consilience of dynamic thinkers emerging from the limits and lessons of that era, who know if they are to live well, and meaningfully, in this dawning era of interconnection, it will require a dramatic transformation in the way we see, think and act.
More about Phil: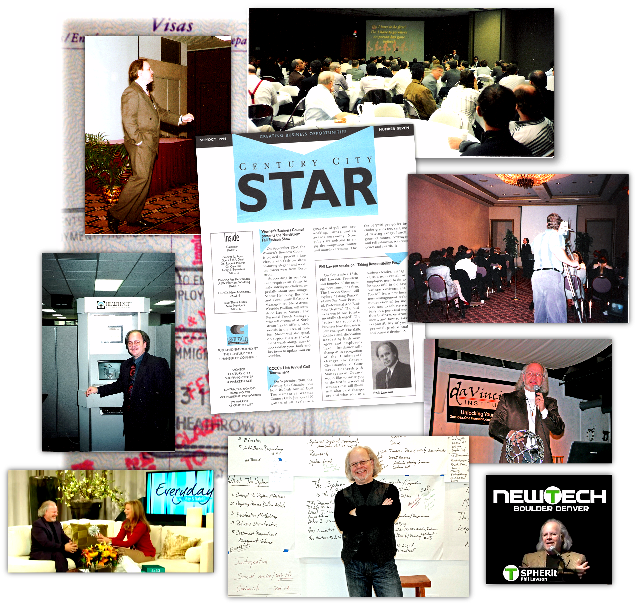 Besides being an author, inventor, patent-holder, and public speaker, Phil has worked for companies in the roles of COO, President, and EVP, (at a publicly traded internet company.)
In addition, Phil was a management consultant for seven years and traveled internationally on business, a portion of that time living and working in Hollywood.
Also, Phil has strategically designed 5 technology systems and worked with teams of programmers to deploy them:
The first online HMO member enrollment kiosk for HealthNet, a California HMO, working with ESRI on this project
One of the first web-based GIS sites for consumers (@InfoNow for Visa)
A fully integrated XML product to create Web sites & identical CD-ROMs for photographers (@StockImagery)
Digital Asset Media Management (HTML-based) (@D-Pics)
Spherical Modeling Tool. U.S. Patent approved 2008 (@Spherit)
In 2011 Phil began identifying ways the scripts and subroutines of the Spherit IP might help socialize AI (for use by bots or AI personal assistants) and by 2013 he was strategically designing ways it could work.
More about Pam: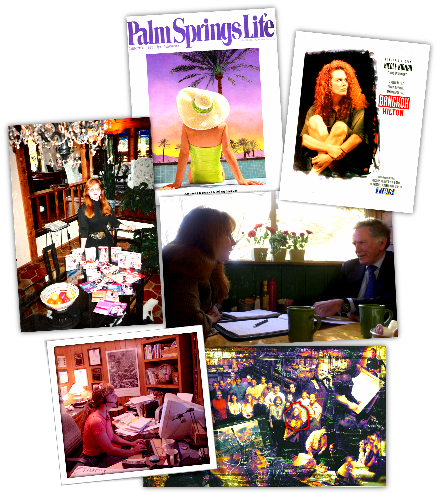 When Phil and Pam lived and worked in Hollywood, Pam was a Photo-Illustrator. She did projects for the publishing, periodical and entertainment industries.
Additionally …
Pam has been a Creative Director at two different agencies (a multi-media firm and the image bank) influencing the message and direction of those companies.
Pam worked as a reporter for nine years giving voice to a string of mountain communities west of Denver, and received nearly two dozen journalism awards.
As the co-owner of Spherit, Pam has been responsible for defining the voice of the company (translating abstract R&D concepts and protocols into human- speak) and for product messaging for the user interface. This has included creating online interactive pages, presentations, and co-producing countless informational videos.